I've never written anything about Valentine's day before, so this year, I thought why not? This year will mark the 6th year my boyfriend and I spent the day together (the first year just as friends funnily enough!) and we have fairly standard traditions.
Valentine's: Yay or Nay?
I'm a huge romantic so if I can, I like to spoil Paddy - not with balloons or teddy bears or big hearts etc cos we're not that sort of couple (ok if you are, it's just not our thing); I usually cook something for him, get him a card and some sort of present, and usually buy him Percy Pigs from M&S - that's one of our oldest traditions and he loooooves them....yeah I do too.
I like to celebrate Valentine's - I just like the idea of celebrating the people you love, no matter who they are - including
yourself
. I've bought friends Valentine's cards and presents and we've done girly things in the past too, just to celebrate our friendships, and I'm
all for that!
At the end of the day, I wouldn't be much without my friends!
That being said, Paddy and I aren't the sort of couple that posts all over social media about how much we love each other etc, and we've never been that way. I occasionally post a photo of us on my Instagram but usually we're fairly low key; Valentine's is very much a chilled occasion for us to just spend time with each other and have fun.
Marking the occasion
We actually went out for only two different Valentine's celebrations: in year 1 when we were at uni and he took me to the cinema and to a place in Southampton called Sprinkles (where they do the best crepes, waffles and ice cream, yuuuum). The only other time was in year 3 when we went to an Indian restaurant in London and well, there's a reason that was the last time. Don't get me wrong - I think it's a lovely thing to do to go out - my parents do it every year (their anniversary is on Valentine's day which is just amazing) - but it was very expensive and in hindsight, wasn't really worth the money for the meal and the uber back to his place - it was about 2.5x the normal price!
Ever since, we've just had a chilled day and/or quiet night in - usually either me cooking or ordering pizza and just sitting down in front of the tv with a film, and that suits us just fine. It's very much more in tune with how we are as a couple, it's cheaper, and it's just so cosy and comfortable!
Gift ideas
When it comes to gifts, Paddy is very hard to buy for. Are other guys like this haha?! He's just one of those people who doesn't really want anything, but if does it'll be something specific and to his taste - so I've gotten him experiences and cooked for him, and gotten him little things in the past!
He's one of those who could literally fit into any category: he loves sports, travel, music, food....it actually gives me a lot of choice!
Things I've got him in the past include:
- sweet treats
- The Jermyn Street Experience - read more about it
here.
-
Theatre tickets to Thriller: Live
- A homemade box full of date ideas (good if you're low on cash as I was, but still really sentimental, and now he can call me out on that golfing day date I promised...needless to say I forgot about that, but that's love huh?)
- Home cooked meal
Things he's bought me in the past include:
- flowers (because they're pretty much a failsafe option)
- the ULTIMATE dessert afternoon tea at William Curley in Belgravia, London
I highly recommend doing this - it is incredible! I'm afraid I don't know exactly how much it is as it was a present, but it was very cool trying all these sweet treats after seeing them all made by professional chefs and chocolatiers in front of us! See more
here
....
- jewellery (yep, it works)
I know how much this was (because I dropped hints to Paddy mwahaha) and it was less than £20 from Not on The High Street! I love this because Perks of Being a Wallflower is my favourite book everrrrr, so this necklace is really sentimental to me!
Card ideas
I'm a sucker for sarcastic cards, but I usually get Paddy one that has reference to some sort of inside joke e.g. 'you're my lobster' - as we're both Friends fans!
These are the sorts of things I like to buy: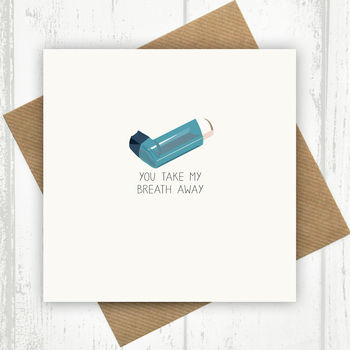 (image taken from www.notonthehighstreet.com - available here)
Because I have asthma...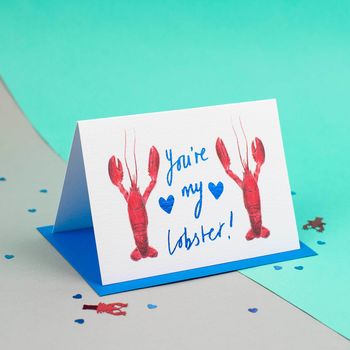 (image taken from www.notonthehightstreet.com - available here)
Because we're Friends obsessed...
(image taken from www.ohhdeer.com - available here)
Self-explanatory really....
(image taken from Ohh Deer - available here)
And because this just sums it all up.
In general, I tend to browse places like Paperchase, Ohh Deer, ASOS, M&S....there's tons to choose from and I think more retailers are doing more fun ones now than they used to!
So this year, Paddy is getting a home cooked three course meal and tickets to something fun fun fun! :) we'll be having a chilled night at mine - probably with some sort of film or tv show, sat on the couch with blankets. PERFECT.
What are your plans?
Happy Valentine's Day to you - whether you be coupled up, with your best friends, with your family, or even flying solo; make sure you treat yourself no matter what.
M x